Honeycomb Shielded Panels
Aluminum honeycomb panels are supplied mounted in a rigid aluminum extrusion pre-drilled or with fasteners and a mesh/elastomer gasket. The standard panels have a high shielding efficiency, low resistance to air flow and light weight. When a very high level of shielding is required, a honeycomb assembly consisting of two cross layers is used. For outdoor or high moisture environment, dip-proof honeycomb panels are available. Customer may specify angle of deflection. For sizes, mounting data and performances please contact our engineering department.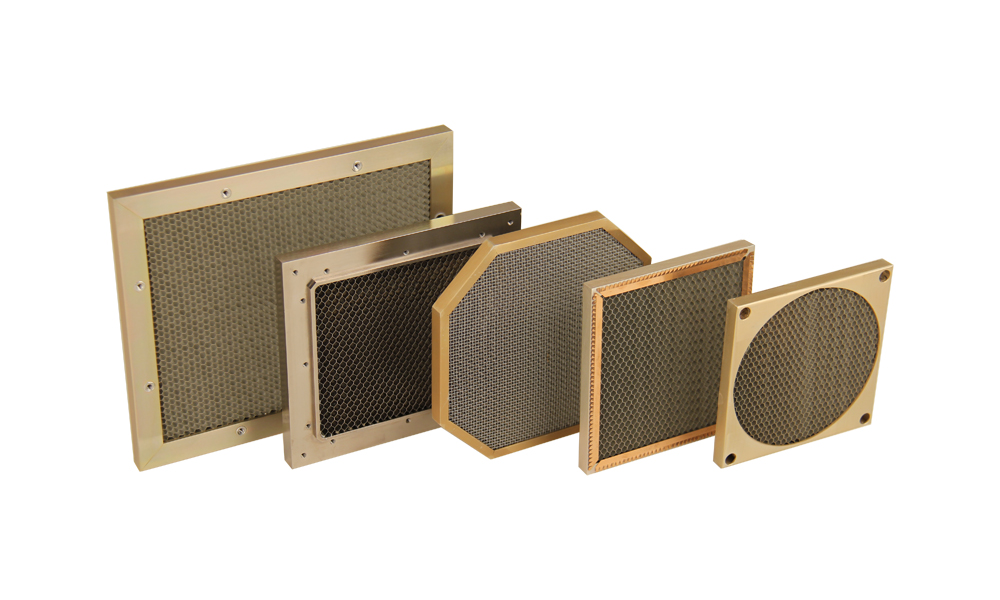 Dust Shielding Panels
Designed to attenuate EMI-RFI on electronic equipment enclosures, Dust Shielding Panels filter out dust from the cooling air flow. The filtering element, which is contained in a rigid aluminum frame, is made out of several layers of woven wire mesh behind a retaining grille. To increase dust arrestance the filtering element can be coated with a viscous oil. Periodically the dust shielding panels should be removed and cleaned. Re-oiling is necessary before reinstallation. A variety of frame cross-section designs are available.